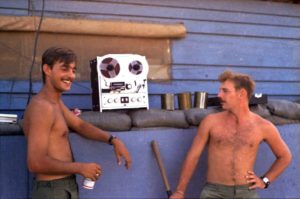 The Vietnam War represents one of the most polarizing events of the nineteenth century politically, philosophically, and even artistically.  The emotional confrontation engendered by the Vietnam War is best represented in the music of that era, which ranged thematically by protest, patriotism, anger, alienation, as well as defiance.
This segment of the "NAM" PROJECT serves as an oral history that can guide us to better understand the emotions and passions of a generation who lived it.  For those who were a part of the war, it will undoubtedly remind them of their experiences in combat, in their homecoming, and of how life was like for them after the war.  For others who came of age during this period, it will remind them of a time of storm and stress, of passionate protests for and against the war, and of an unapologetic rebuke of the "status quo" in America.
THE "NAM" PROJECT PLAYLIST
"Masters of War" (1963) by Bob Dylan 
The genius of Bob Dylan shines through in "Masters of War."  It serves as one of his fiercest songs and was inspired by the hypocrisy of the arms race underway between the Russia and the United States as well as the conflict in Vietnam.  "Masters of War" protests not only the Vietnam War but war in general.  It demonstrates the real nature of war—that the "masters" who initiate and orchestrate the wars are safe in their homes, while normal (and usually young) people are forced to go out to fight and fear for their lives.  The song also discusses philosophical questions, such as whether a war can really be "won" when losses are sky-high on both sides.
Source:  http://genius.com/Bob-dylan-masters-of-war-lyrics
For Academic Purposes Only
---
"Blowin' in the Wind" (1963) by Bob Dylan 
This song was written and recorded by an obscure 21-year-old folk singer, Bob Dylan, as the United States escalated their involvement in the Vietnam War.  The song, which gained larger prominence when it was re-recorded by the folk trio, Peter, Paul and Mary, became one of the most famous protest songs to come out of the '60s as well as an anthem for the African-American Civil Rights Movement.  Although Dylan claimed it was not a protest song at the time, it would inspire others to take up cause by writing songs that had similar protesting undercurrents that reflected the uneasy times in which they lived.  Some artists who were inspired in this way included Sam Cooke, Stevie Wonder, the Beatles, and Neil Young.
Source:  http://www.songfacts.com/detail.php?id=1669
For Academic Purposes Only
---
"The House of the Rising Sun" (1964) by The Animals 
This trans-Atlantic "folk-rock" hit is not necessarily a war protest song, but it is included in this collection because of its timely release and immense popularity.  Its cult following among the troops serving in both NAM and States-side merit its addition, as well as the telling footage that accompanies this video.  The footage of President Kennedy's Catholic University speech serves as a great lead for this project.
For Academic Purposes Only
---
"We Gotta Get Out Of This Place" (1965) by The Animals
For a majority of the three million who fought in Vietnam, this song became a mantra similar to "We Shall Ovecome," and its lyrics hit home like no other.  Bobbie Keith, an Armed Forces Radio DJ in Vietnam from 1967-69 listed it as one of the most requested songs during his watch.  And Leroy Tecube, an Apache infantryman stationed south of Chu Lai in 1968, recalls:  "When the chorus began, singing ability didn't matter; drunk or sober, everyone joined in as loud as he could."  This song, like many of this era, reflect how music allowed U.S. troops to connect to each other and the world back home while coping with the complexities of the war they had been sent to fight.
¨Source: http://boingboing.net/2015/11/17/listen-to-the-soldiers-music.html
For Academic Purposes Only
---
"Eve of Destruction" (1965) by Barry McQuire
Written by a 19-year old staff writer at McQuire's record label, this effort serves as a protest song about political issues of the '60s.  Many radio stations refused to play it because of its anti-government and anti-establishment lyrics.  Ironically, the negative publicity surrounding its lyrics served to promote the popularity of the song among young radio listeners and would eventually make it to #1 in the United States and #3 in Great Britain.  "Eve of Destruction" takes on racism, hypocrisy and injustice at a volatile time in American history.  Other major influences include the assassination of U.S. President John F. Kennedy in 1963 and the escalation of the Vietnam conflict in Southeast Asia.
Source:  http://www.songfacts.com/detail.php?id=799
For Academic Purposes Only
---
"Turn!Turn!Turn!" (1965) by the Byrds'
 "Turn! Turn! Turn!" is generally considered to be a call for world peace.  It was released twice, once in 1962 and then again in 1965.  The second rendition's timely release during the Vietnam conflict adds credence to Pete Seeger's closing line:  "a time for peace, I swear it's not too late."  The lyrics of this song are adapted word-for-word from the English version of the first eight verses of the third chapter of the biblical Book of Ecclesiastes.  When it was originally released in 1962 as "To Everything There Is a Season" on The Limeliters' album Folk Matinee, and then some months later on Seeger's own The Bitter and the Sweet, it was not an international hit until the Byrds' released it in 1965.  It would reach #1 by December of that year.  "Turn! Turn! Turn!" has been featured in numerous movies and TV shows related to the 1960s, and the lyrics speak for themselves with regards to the prevailing issues of that decade.
Source:   http://www.biography.com/news/the-byrds-turn-turn-turn-facts-anniversary
For Academic Purposes Only 
---
"Mr. Tamborine Man" (1965) by the Byrds' 
Released in 1965, the Byrds' debut album, Mr. Tambourine Man, marked the beginning of the folk-rock revolution.  Within the span of a few months, the Byrds became a household name with a #1 single and a smash-hit album that married the ringing guitars and back beat of the British Invasion with the harmonies and lyrical depth of folk music.  By doing so, it created an entirely new sound.  Although this song was made famous by the Byrds' it was the brain child of Bob Dylan.  He credits this song to a road trip he took with some friends from New York to San Francisco.  They smoked lots of marijuana along the way, replenishing their stash at post offices where they had mailed pot along the way.  It would be the only song Dylan wrote that would make it to #1 on the U.S. pop charts.  The popularity of this song on Armed Forces radio merits its inclusion on this playlist.
Source:  http://www.history.com/this-day-in-history/mr-tambourine-man-is-released-and-the-folk-rock-revolution-is-on
For Academic Purposes Only
---
"Ballad of the Green Berets" (1966) by SSGT Barry Sadler 
Barry Allen Sadler was a member of the Green Berets, the US Army's elite Special Forces unit fighting in Vietnam.  While serving as a medic he was injured by a punji stick (a type of booby trap) and moved to the rear in order to recover.  During this time, Sadler wrote songs for other wounded soldiers in order to boost morale and combat low public opinion.   A TV new crew filmed him singing in the hospital and aired it States side.  In the U.S., this song was the biggest-selling single of 1966.  Support for this song centered on what it represented:  a show of support for troops overseas; cultural push back against the tide of apparent unpatriotic protests sweeping the country.  This ballad would serve as the inspiration for a John Wayne film called The Green Berets.
Source:  http://www.songfacts.com/detail.php?id=4405
For Academic Purposes Only
---
"I-Feel-Like-I'm-Fixin'-to-Die-Rag" (1967) by Country Joe McDonald 
Fronted by United States Navy veteran Joe McDonald, this effort served as a rallying cry to many returning veterans.  This anti-war song, "Feel Like I'm Fixin to Die Rag," was recorded and released in late 1967.  Musically, the song takes the form of an upbeat ragtime ballad laden with lyrics that are dark and sardonic, filled with black humor and pointed commentary about the folly of the Vietnam War.  McDonald blamed American involvement in Vietnam on several groups:  the government, zealous military commanders, greedy arms manufacturers and capitalists – even parents who encouraged or allowed their sons to enlist.  The dark tone of "Feel Like I'm Fixin to Die" meant it received little airplay on radio or television.  Nevertheless, it was widely known by young Americans, particularly those in the anti-war and counterculture movements.  The following clip was filmed at Woodstock (1969).
Source: http://alphahistory.com/vietnamwar/feel-like-im-fixin-to-die-rag-1969/
For Academic Purposes Only 
---
"Waist Deep in the Big Muddy" (1967) by Pete Seeger
Seeger wrote "Waist Deep in the Big Muddy," as a thinly veiled attack on President Lyndon B. Johnson's policy of escalation during the Vietnam War.  This song turned out to be one of the most popular and controversial anti-war songs since it served as a potent antiwar allegory.  Critics charged that it reflected the sentiments of nearly half the nation.
Source:  http://www.shmoop.com/waist-deep-big-muddy/
For Academic Purposes Only 
---
"For What Ever Its Worth" (1967) by Buffalo Springfield 
Contrary to popular belief, "For What It's Worth" wasn't written as a reflection on any of the historic Vietnam War protests or Civil Rights marches of the era.  The song was instead inspired by the "Sunset Strip Riots" that were a reaction to the closing of a popular L.A. nightspot, Pandora's Box, and to the curfews imposed on the area to deter young people from loitering outside of clubs and bars.  The LAPD had tried to enforce the curfew laws by shutting down a handful of hangouts frequented by teens and people in their early twenties, so a local radio station called for a rally to protest.  About a thousand young people showed up and milled about at the corner of Sunset and Crescent Heights until fighting broke out.  While the event was certainly politically, socially, and emotionally charge, it surprises a lot of people to learn that this was the inspiration for the Buffalo Springfield classic.  "For What It's Worth" was almost immediately embraced as an anthem for much larger social and political protests.
Source:  http://www.shmoop.com/for-what-its-worth-buffalo-springfield/meaning.html
For Academic Purposes Only 
---
"The Unknown Soldier" (1968) by the Doors 
"The Unknown Soldier" was the first single from The Doors' 1968 album, Waiting for the Sun, and it was also the subject of one of the band's few, inventive music videos.  The song was Jim Morrison's reaction to the Vietnam War and the way that the conflict was portrayed in American media at the time.  Lines such as, "Breakfast where the news is read…Television children fed…unborn living, living dead…bullets strike the helmet's head," was in reference to the way news of the war was being presented in the living rooms of ordinary people.  The song concludes with Morrison's ecstatic celebration of a war being over.  In the studio version of the song, the sounds of crowds cheering, and bells tolling, can be heard.
Source:  http://www.antiwarsongs.org/canzone.php?id=133%E2%9F%A8&lang=en
For Academic Purposes Only
---
"Revolution" (1968) by the Beetles
By spring 1968, student demonstrations had reached a fever pitch all around the world, most notably in Paris, where a massive strike and resultant riots led to the collapse of the government led by Charles DeGaulle.  John Lennon, who questioned the goals of the leftists movement even as he championed their basic beliefs, wrote this song directly to the world's young revolutionaries.  He was specifically inspired by the May 1968 French upheaval.  John had always intended this song to be the first release on the group's new, self-owned label, Apple, but the other band members and producer George Martin felt the original song — slower and calmer than the single we know today — wouldn't capture the attention of radio listeners.
Source:  http://oldies.about.com/od/thebeatlessongs/a/revolution.htm
---
"Sky Pilot" (1968) by The Animals
This song finds the army chaplain telling the soldiers that they are fighting for a greater cause, as they are "soldiers of God."  It serves as a condemnation of using religion to sanctify war and its vestiges.  At the end of the song, one of the soldiers returns from battle and realizes the words of the chaplain go against what he learned in the Bible:  "Thou shalt not kill."  Sound effects of fighting, gunfire, airplanes, and bagpipes were used to accent the ills of war, and disdain for this anti-war song reached the highest ranks of the British government for its use of pipe music.
Source:  http://www.songfacts.com/detail.php?id=2429
For Academic Purposes Only
---
"Fortunate Son" (1969) by Creedence Clearwater Revival
This song represents one of the most impassioned statements against the Vietnam War and the political establishment in late-1960s America.  "Fortunate Son" is a song by Creedence Clearwater Revival (also known as CCR); it was released in the album Willy and The Poor Boys in 1969, during the Vietnam.  It embodied the American public's increasing discontent with the war in Southeast Asia and U.S. involvement in Vietnam.  Prior to the Tet Offensive of 1968, the antiwar movement was primarily composed of college students, hippies, and pacifists–part of a broader youth-based movement aimed at reforming traditional American social norms and values.  However, between 1968 and 1969, this disaffection for the Vietnam War expanded to include many middle-class moderates.  On October 15, 1969, two million Americans participated in a nationwide protest known as the Moratorium.  During this period, over half a million young men defied the Selective Service draft, some of them burning their draft cards in large protest demonstrations.  "Fortunate Son" was released the very same month that Nixon delivered his "Silent Majority" speech.  The song was incredibly critical of the Selective Service System, which produced a military that was disproportionately composed of minorities and the poor.  These unfortunate sons lacked the resources to obtain educational or medical deferments, which were quite common among more affluent draftees.  For the multitudes of Americans who did not support Nixon's claim, the "Fortunate Son" was their anthem.
Source: http://www.shmoop.com/fortunate-son/meaning.html
For Academic Purposes Only
---
"Give Peace a Chance" (1969) by John Lennon
Recorded during the famous "Bed In" in Montreal, this John Lennon composition was another anthem to the anti-war movement and became his first hit single after he left the Beatles.  Although there is no mention of the Vietnam War in the lyrics, it was sung across the country in the many anti-war protests that swept the country during the '60s and '70s.  This song quickly became the anthem of the antiwar movement as many Americans felt the country should not be fighting in Vietnam.  On October 15, 1969, a multi-city demonstration called The Moratorium to End the War in Vietnam took place, and protesters sang this song in mass.
Source:  http://www.songfacts.com/detail.php?id=1111
For Academic Purposes Only 
---
"Proud Mary" (1969) by CCR
This song was written by John Fogerty upon his discharge from the National Guard.  Although the song does not single out the Vietnam War nor is it about protested issues of the 1960s, it deserves mention due to its popularity among the troops.  It appears on numerous playlists related to music that entertained the troops stationed overseas and state side.  The footage in the following video fits nicely with this collection.
Source:  http://www.allmusic.com/song/proud-mary-mt0034208527
For Academic Purposes Only 
"Ohio" (1970) by Crosby, Stills, and Nash
This song was written in reaction to the events of May 4, 1970, when the U.S. National Guard shot four unarmed students at Kent State University in Ohio.  Sadly, two out of the four students killed that day were not part of the student protest demonstration nor were they a part of an antiwar protest.  They had just left the journalism building on their way to their next class when the National Guard fired into a crowd of protestors across the quad.  Neil Young wrote it shortly after seeing a news report on the tragedy.  The song was released ten days after the shootings, and the lyrics expressed a prevailing mood of outrage and shock in the wake of the shootings.  This song became a protest anthem as Americans became fed up with the war in Vietnam.  The American counterculture would embrace this group as its own after the release of "Ohio," giving Crosby, Stills, and Nash the exalted status as leaders and spokesmen for this generation of young Americans.
Source:  http://www.songfacts.com/detail.php?id=1124
For Academic Purposes Only
"War" (1970) by Edwin Starr
This protest song about the Vietnam War was a smash hit on Starr's album, War and Peace.  Although it makes a broader statement on the need for harmony in our everyday lives, its undertones about the war also made a strong political statement.  The Motown label had always been focused on making hit songs, but around this time, artists like The Temptations and Marvin Gaye began releasing songs with social commentary, many of which were written by Whitfield.  This song would be performed by Bruce Springteen in 1986 in protest of Ronald Reagan's foreign policy in Central America and elsewhere.
Source:  http://www.songfacts.com/detail.php?id=1029
For Academic Purposes Only
"Running Through the Jungle" (1970) by CCR
This is often believed to be about the Vietnam War, as it referred to a "jungle" and was released in 1970.  The fact that previous CCR songs such as "Who'll Stop the Rain?" and "Fortunate Son" were protests of the Vietnam War added to this belief.  In response, John Fogerty said:  "I think a lot of people thought that because of the times, but I was talking about America and the proliferation of guns, registered and otherwise.  I'm a hunter and I'm not antigun, but I just thought that people were so gun-happy – and there were so many guns uncontrolled that it really was dangerous, and it's even worse now. It's interesting that it has taken 20-odd years to get a movement on that position."   The footage included is the video stands for itself.  The lyrics of this song contribute greatly to our understanding of the the late 1960s and 1970s in America.
Source:  http://www.songfacts.com/detail.php?id=2997
For Academic Purposes Only
"Who'll Stop the Rain" (1970) by CCR
The song is often interpreted as a protest of the Vietnam War (like "Fortunate Son").  However, John Fogerty, who wrote the song set the record straight by telling audiences that it was about Woodstock and not Vietnam.  He was inspired to write this song after attending Woodstock in 1969, watching the rain come down.  He watched the festival goers dance in the rain, muddy, naked, cold, huddling together, and it just kept raining.  So when he got back home after that eventful weekend, he sat down and wrote "Who'll Stop the Rain," making it not a Vietnam protest at all, but a recounting of his Woodstock experience.  Regardless of the song's intent, the troops requested this CCR hit over and over again, and its popularity made it a part of several Vietnam related movies.
Source:  http://www.songfacts.com/detail.php?id=1919
For Academic Purposes Only
"Vietnam" (1970) by Jimmy Cliff 
Cliff delivered this anti-war song in the form of a letter that the narrator receives from a friend fighting in Vietnam. He told Mojo magazine in July 2012 that it was inspired by the experiences of a friend and stated:  "I felt I could make a change through music," and "maybe that stems back to church and Sam Cooke, but I was socially conscious and sensitive to things going in that war.  A friend I went to school with, he was a great artist, he went to live with his family in America, he got drafted, went to Vietnam, and it blew his mind.  He came back, he didn't recognize me, it was as if he was dead."  Bob Dylan once lauded this song as one of the best protest songs ever written.
Source:  http://www.songfacts.com/detail.php?id=26850
For Academic Purposes Only 
"Paint It Black" (1970) by the Rolling Stones
This popular Rolling Stones song is featured at the end of Stanley Kubrick's movie Full Metal Jacket, where the death of the men in the film serve as an allegory of the emotional death of all men in war.  This song was also used as the opening theme of a TV action program, Tour of Duty, on CBS.  Although this show only lasted two seasons it  was credited with cover important war related issues such as politics, faith, teamwork, racism, suicide, drug abuse, and civilian deaths.  More importantly, it explored issues related to the shattered lives and unsettled feelings of those troops who made it home alive.  The footage that accompanies this video speaks for itself.
Source:  http://www.songfacts.com/detail.php?id=474
For Academic Purposes Only
"It Better End Soon" (1970) by Chicago Transit Authority 
"What's Going On" (1971) by Marvin Gaye
This wonderful masterpiece by Marvin Gaye is a lyrical survey of what happened to the American dream of the past — as it related to urban decay, environmental woes, military turbulence, police brutality, unemployment, and poverty.  These feelings had been bubbling up between 1967 and 1970, during which he felt increasingly caged by Motown's behind-the-times hit machine and restrained from expressing himself seriously through his music.  This song was also conceived as a statement from the viewpoint of a Vietnam veteran (Gaye's brother Frankie had returned from a three-year hitch in 1967).  More importantly, "What's Going On" also served a dual purpose:  it not only addressing the question of a baffled soldier returning home to a strange place, but it also promised that listeners would be informed by what they heard.  Indicative of the Motown sound produced by Gaye and others, this song serves to help listeners reflect on the climate of the early '70s, rife with civil unrest, drug abuse, abandoned children, and the spectre of riots in the near past.
Source:  http://www.allmusic.com/album/whats-going-on-mw0000651085
For Academic Purposes Only