The Vietnam conflict inspired many portrayals in drama and film, and many were thematically centered on societal alienation (due to military training), combat experience, and the reinterpretation of American war myths.  Other themes concerned topics related to both individual and social disintegration, internecine conflict, psychological fragmentation, isolation, and a loss of cultural identity.  Additionally, during this time period, the use of televised news reporting also emerged as a powerful political tool.
This portion of the "NAM" PROJECT goes beyond the printed word and auditory renditions by various artists to provide commentaries on Vietnam War in three dimensions:  What did I see?  What did I hear?  And what did I learn or come to appreciate by engaging in both?  More importantly, what point was the director or screen writer trying to prove?  The SCREENING ROOM also includes "short" film clips from award winning documentaries that cover historical aspects of the war.
THE "NAM" PROJECT SCREENING ROOM
Nixon-Kennedy Debate #4 (October 21, 1960) – NBC News 
The first presidential debate between Richard Nixon and John F. Kennedy held on September 26, 1960 before a record and captive audience of sixty million holds a special place in political and television history.  For many, the moral of the Nixon-Kennedy debates is that style trumps substance.  However, while this debate ushered in a new era of political coverage on TV it also set the agenda for economic and foreign policy issues to be carried out by both men for the majority of the 1960s and the 1970s.  While the first debate gets most of the attention by historians and scholars, it is the fourth debate that carries the day with regards to the NAM PROJECT.  The central issue of this debate–American foreign policy–demonstrates that judgment and experience was becoming a major issue between the two candidates regarding the Cold War.
Source:  http://www.history.com/topics/us-presidents/kennedy-nixon-debates
For Academic Purposes Only 
---
President Eisenhower's Farewell Speech to the Nation (January 17, 1961) – NBC News 
On January 17, 1961, just days before a new president was to be sworn in, President Dwight Eisenhower gave the nation a dire warning about what he described as a threat to democratic government.  He called it the military-industrial complex, a formidable union of defense contractors and the armed forces.  Eisenhower, a retired five-star Army general, the man who led the allies on D-Day, made the remarks in his farewell speech from the White House.  He used the speech to warn about "the immense military establishment" that had joined with "a large arms industry."  Eisenhower was worried about the costs of an arms race with the Soviet Union, and the resources it would take from other areas — such as building hospitals and schools.  Moreover, Eisenhower argued that "we must learn how to compose differences not with arms, but with intellect and decent purpose."  This speech and the president's poignant remarks came from personal insight; this was an individual who had witnessed firsthand the horrors of war and the lingering sadness that often trailed behind its destruction.
Source:  http://www.npr.org/2011/01/17/132942244/ikes-warning-of-military-expansion-50-years-later
For Academic Purposes Only
---
JFK Interview (September 2, 1963) – CBS News (Walter Kronkite) 
This video clip shows President John F. Kennedy's interview with CBS Evening News Anchor Walter Cronkite.  In the interview, the President assesses how four current issues will affect his chances of reelection in 1964:  civil rights, unemployment, the Partial Test Ban Treaty, and the Vietnam War.  This footage specifically hones in on his views on Vietnam.  The entire interview last 20 minutes.
Source: https://www.jfklibrary.org/Asset-Viewer/Archives/JFKWHA-212-002.aspx
For Academic Purposes Only 
---
Tribes (1970)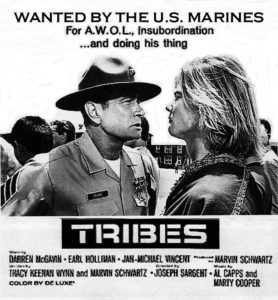 As a busload of recruits arrives at a U.S. Marine training base, tough and seasoned drill instructor, Sergeant Drake, spots a long-haired youth wearing a flowing robe, beads, and sandals. Addressing the boy, Adrian, as "Lady," the sergeant makes it clear that he has no use for "hippies."  To Drake's surprise, Adrian proves to be no problem:  serenely accepting his G.I. haircut and military garb, he obeys all orders, fulfills all assignments, and despite the lack of a high school diploma, he scores top grades on all written tests.  Drake asks the boy why he spends his rest periods either sitting in a lotus position or standing on his head, and Adrian explains that it relaxes him–just as Drake himself relaxes by making sketches of seagulls.  Following a drill session, during which Adrian outlasts all the other recruits in holding buckets of sand at arm's length, Sergeant Drake develops a grudging respect for the boy and slackens up on disciplinary measures.  After Adrian shows the other inductees how practicing yoga will help them endure holding buckets of sand, DePayster, a sadistic drill instructor, lashes out at Adrian during rifle practice for refusing to shoot at vital parts of a target figure.  Further, DePayster goads Drake into such a fury by accusing him of having gone soft that the sergeant renews his harsh treatment of the men, so much so that one rookie attempts to slash his wrists.  Depressed by the turn of events, Adrian deserts after taking his graduation exams.  Drake, however, finds him at the bus depot and talks him into returning to the base.  Learning that he has been denied graduation because of rifle practice, and that DePayster, who engineered the failure, will have him for "special" retraining, Adrian goes AWOL.  Sergeant Drake pins up his sketch of the seagull as a reminder of the boy and goes out to face a new batch of recruits.
Source:  http://www.tcm.com/tcmdb/title/18649/Tribes/
---
Hearts and Minds (1974)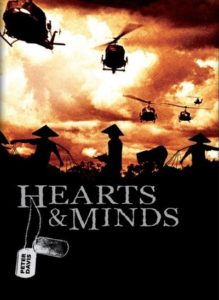 Peter Davis' landmark documentary, Hearts and Minds, confronts with stark frankness the United States' involvement in Vietnam and the development of its foreign policy in the 1970s.  The film uses a carefully constructed range of meticulously researched material that includes original interviews, newsreel, and documentary footage of the conflict and its aftermath (on both the battlefield and on home soil).  From its presentation emerges a devastating and affecting self-portrait, one that sheds light on not only the soldiers and the war itself, but also the catastrophic effects that conflict has on the citizens it so negligently rages around.  An incendiary, enlightening, and ultimately sobering experience, Hearts and Minds was the controversial but undeniably deserving winner of the 1974 Academy Award for Best Documentary.  Critics were split into two camps after reviewing this film:  they either saw this film as a masterpiece of politically inspired documentary film-making or a propagandistic hatchet job on the Vietnam War.
Source:   http://www.filmsforaction.org/watch/hearts-and-minds-1974/
---
Full Metal Jacket (1987)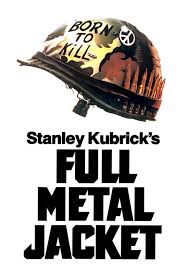 Of all the major films made about the war, Stanley Kubrick's Full Metal Jacket remains, in many ways, the hardest to fathom.  Like almost all of Kubrick's work, it was greeted on initial release with a certain amount of critical hostility.  Pauline Kael suggested "this may be his worst movie," while Roger Ebert dismissed it as "a strangely shapeless film from the man whose work usually imposes a ferociously consistent vision on his material."  But as is usually the case with Kubrick, these dissenting voices have faded over time, to the extent that the film is now generally regarded as a fascinating and singular riff on the familiar "war is hell" refrain.  The very things that troubled those early detractors – its uneven structure; its atmosphere of artificiality, heightened by the fact that it was filmed entirely in east London – are in fact the film's greatest strengths.  The widely praised opening sequence, in which a group of new recruits are brutalized at boot camp by the unhinged Gunnery Sergeant Hartman (R. Lee Ermey), remains an abrasively funny skewering of macho military culture.  But it's only over the course of the ambling, surreal second act that we come to see just how pathetically pointless it is to try and "prepare" a young man for the disorienting unreality and nihilistic savagery of warfare.
Source:  http://www.bfi.org.uk/news-opinion/news-bfi/lists/10-great-vietnam-war-films
---
Good Morning Vietnam (1987)
This film follows the unorthodox methods of a U.S. Armed Services disc jockey stationed in Vietnam (1965).  This good-natured comedy-drama was the third major Vietnam-set film to be released in 1987 (after Full Metal Jacket and Hamburger Hill), and proved by far the most commercially successful.  It remains to this day unmatched as a vehicle for the particular talents of Robin Williams, who stars as motor-mouthed military DJ Adrian Cronauer.  While Cronauer's livewire broadcasts prove an instant hit with Saigon troops, his irreverent attitude soon lands him in trouble with stern superior officers.  His appeal to the troops is largely due to his dynamic burst of energy and his avoidance of dull and rote broadcasts of his predecessors.  The director's masterstroke is to confine Williams's zany schtick, which can grow exhausting over the course of an entire film, to short, exhilarating venettes.  Off air, Cronauer is an altogether more subdued character, who is forced to confront the grim realities of war after falling for a Vietnamese girl and befriending her brother.  This move towards more dramatic terrain isn't altogether smooth, but a brilliantly executed, genuinely shocking terrorist attack sequence around the halfway point ensures that the film remains engagingly unpredictable, all the way through to its moving conclusion.
Source: http://www.bfi.org.uk/news-opinion/news-bfi/lists/10-great-vietnam-war-films
---
For Academic Purposes Only 
---
Hamburger Hill (1987)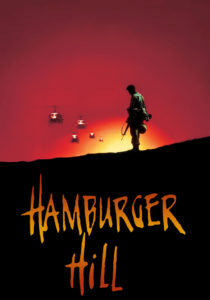 John Irvin's elegant combat drama keeps its focus restricted to the experiences of a single American platoon during a single arduous, bloody mission. When U.S. military leaders ordered the capture of Hill 937 in May 1969, they did so primarily as a diversionary tactic.  The area, later nicknamed Hamburger Hill, was little strategic value and was abandoned shortly after the mission proved successful.  A sense of utter futility permeates this fictionalized account of the battle.  Our handsome young protagonists are acutely aware of both the pointlessness of the mission and their powerlessness to question orders.  This is compounded by a growing realization that anti-war sentiment is rapidly spreading at home – if they're lucky enough to make it back alive, they're more likely to be greeted as dumb political pawns than returning heroes.  Vietnam veteran-turned-screenwriter James Carabatsos delivers a lyrical script, packed with rousing monologues and poetically profane one-liners ("Will you stop finger-fucking his dreams with your chicken shit details?"). Meanwhile Irvin uses eye-popping horror movie violence – exploding heads, ruptured organs, fountains of blood – sparingly, to truly shocking effect.
Source:  http://www.bfi.org.uk/news-opinion/news-bfi/lists/10-great-vietnam-war-films
---
In Country (1989)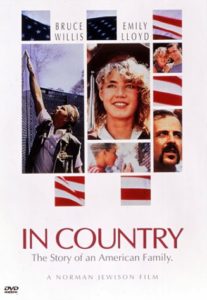 This film based on Bobbie Ann Mason's book In Country (1985) deals with the Samantha Hughes, a teenaged Kentucky girl, never knew her father, who died in Vietnam before her birth. Samantha lives with her Uncle Emmett, who also served in Vietnam. Emmett hangs around with Tom, Earl, and Pete, three other Vietnam vets who, like Emmett, all have problems of one kind or another, that relate to their war experiences. Sam, as Samantha is known, becomes obsessed with finding out about her father and his experiences, but Emmett and the other vets don't want to talk about the war. Sam pushes everyone to attend a dance honoring the town's veterans, but Pete and Earl get into a fight, Emmett disappears, and Tom takes Sam home for an unsuccessful tryst. When Sam reads her father's diary, she begins to understand what his life and death meant, and she and Emmett, with a trip to the Vietnam Veteran's Memorial, come at least temporarily to terms with the war in their lives.
Source:  http://www.imdb.com/title/tt0097570/
---
Forrest Gump (1994) 
This film clip is included in this collection for the simple reason that its story line and soundtrack includes many topics/issues related to the 1960s and 1970s.  Both high school and college students have watched this film and have been inspired to ask questions related to its context in search of "deeper" meaning.  Ironically, both liberals and conservatives have laid claim to this movie and its message.  Ironically, film critics charge that Forrest Gump in many ways is apolitical throughout the movie, which opens his portrayal open to many political and social interpretations.
For Academic Purposes Only 
---
The American Experience (LBJ: The 1968 Presidential Election)
This short American Experience biographical clip of Lyndon Baines Johnson sheds light on one of the most astute, effective, and perplexing politicians in modern American history.  An "accidental" president but a master legislator, he was determined to "out-Kennedy" the Kennedys by pushing through historic social legislation on a scale that rivaled FDR's New Deal.
A Southerner who championed civil rights, LBJ put into motion many of the programs that would continue to shape American life throughout the 1960s and 1970s.  This package of reforms was known as the "Great Society."  But as his authority was undermined by an increasingly unpopular commitment of U.S. forces to Vietnam, his presidency began to unravel.  Opposition to the war spurred protest movements and a youthful counterculture.  In 1968 he stunned the nation by announcing he would not seek reelection.  A larger-than-life figure in his day, LBJ is appreciated for his vast domestic accomplishments, but his presidency continues to be overshadowed by his failure to end the war in Vietnam.
LBJ challenged by Robert Kennedy in 1968 presidential election — LBJ's paranoia grows, and he becomes even more adamant about winning the war — "Wise Men" tell LBJ to end the war — LBJ announces his withdrawal from the presidential race in March, 1968 — Ho Chi Minh agrees to begin peace talks — Dr. Martin Luther King, Jr. is assassinated — Robert Kennedy is assassinated — Richard Nixon is elected president
Source:  http://www.pbs.org/wgbh/americanexperience/lbj-introduction/
For Academic Purposes Only 
---
The Fog of War (2003)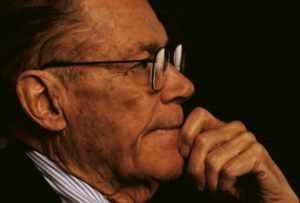 Errol Morris's insightful portrait of former U.S. Defense Secretary Robert S. McNamara offers the perfect counterpoint to the view of the war presented in Hearts and Minds.  While Peter Davis' film does a fine job of documenting its heart-breaking human cost, it makes no serious attempt to interrogate why American authorities persisted in keeping troops in Vietnam.  Here, with the benefit of decades of hindsight, McNamara is given ample space to calmly reflect on his role as one the chief architects of the Vietnam War.   While he refuses to admit guilt or directly apologize for his actions, he freely admits that he made grave mistakes during his time under both Kennedy and Johnson.  His conclusions are often disarmingly frank and piercingly incisive:  "In the case of Vietnam, we didn't know them well enough to empathise, and there was total misunderstanding as a result."  While the film essentially takes the form of a feature length to-camera interview, it's also gloriously cinematic.  Morris seamlessly and playfully integrates arresting archive footage, while a stirring Philip Glass score lends a sense of high drama to proceedings.
Source:  http://www.bfi.org.uk/news-opinion/news-bfi/lists/10-great-vietnam-war-films
---
Call of Duty (James Webb Bio) – CBS News (May 25, 2014)
James Webb answered the call nearly a half-century ago, and has been trying to serve his country ever since. National security correspondent David Martin interviews the former Marine and Vietnam Vet who has also served as Secretary of the Navy and in the U.S. Senate.
Source:   http://www.cbsnews.com/videos/james-webb-on-his-call-of-duty/
---
To Be Added: 
The Deer Hunter (1978)
Coming Home (1978)
Apocalypse Now (1979)
Return of the Secaucus 7 (1980)
When the Tenth Month Comes (1984)
Karma (1985)
Platoon (1986)
Full Metal Jacket (1987)
Casualties of War ((1989)
Born on the Fourth of July (1989)
Jacob's Ladder (1990)
Little Dieter Needs to Fly (1997)
A Brightest Shining Lie (1998)